Boiler Servicing in Birmingham & Solihull


BOILER SERVICE IN BIRMINGHAM
Appliances should be serviced regularly in accordance with manufacturer's instructions. Servicing your gas appliances regularly will make sure they are safe to use. It will also maintain the efficiency and performance of your appliance. Signs that your appliances need servicing? Gas appliances should be serviced regularly but if you notice any of the warning signs below you should arrange for a Gas Safe registered engineer to service your appliance as soon as possible: Your appliance is burning with a lazy yellow flame instead of a crisp blue flame You can see black marks or stains on or around your gas appliances The pilot light keeps going out There is increased condensation in the room. Our gas safe registered boiler engineers are trained to look out for all of these common faults.
A standard boiler service usually will take 40 minutes to an hour and the engineer will test the boiler using specialist flue gas analyzer to ensure the safe operation of the appliance, a clean out of the main heat exchanger if necessary, testing gas pressures and gas rates and issuing a certificate of completion.
EXAMPLE SERVICE CERTIFICATE.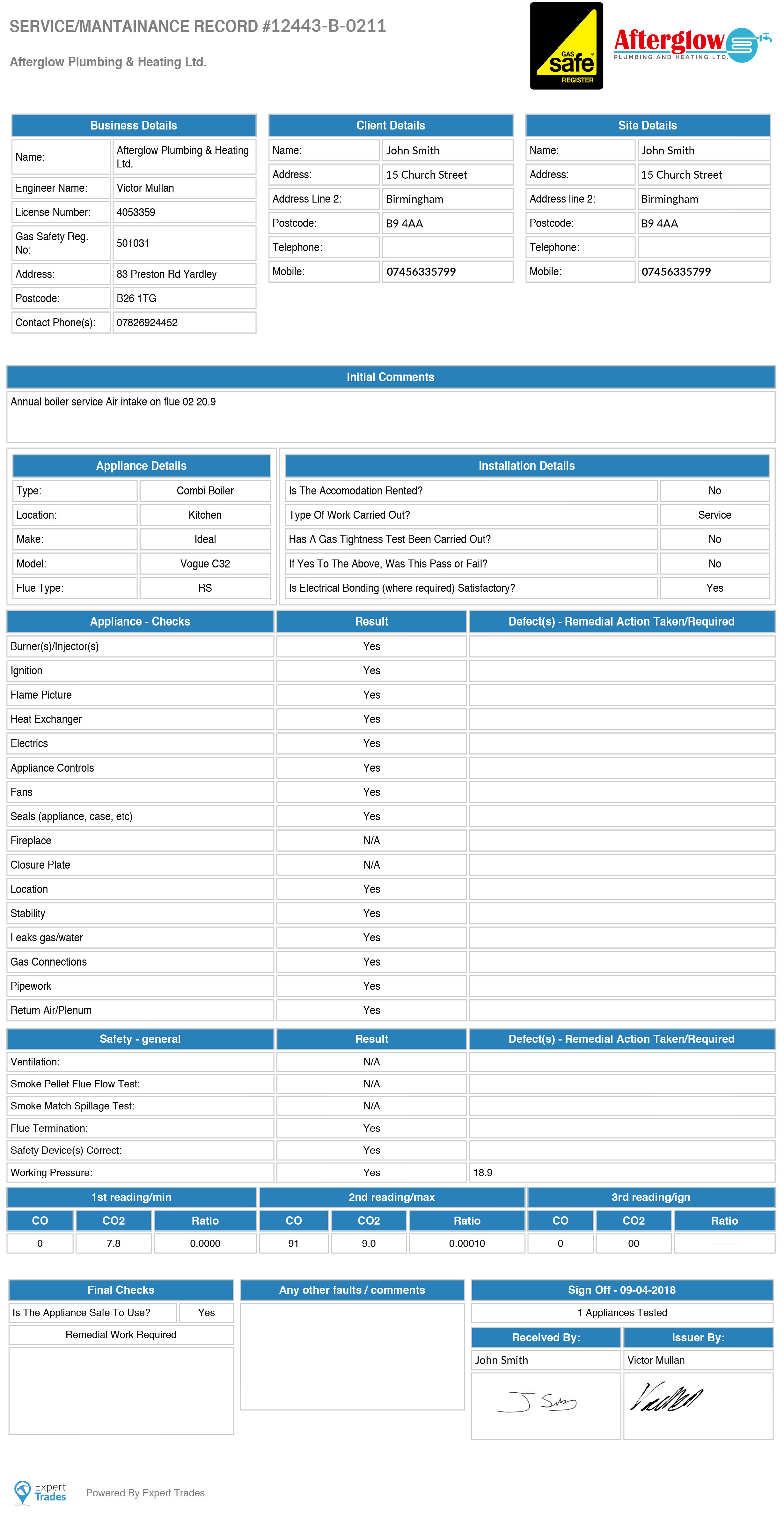 CONTACT US TODAY AND BOOK ONE OF OUR TRAINED HEATING ENGINEERS TO COME AND SERVICE YOUR BOILER.
BOILER REPAIRS BIRMINGHAM
There's never a good time for a boiler to break down, but when it does Afterglow is on hand to offer a fast and affordable boiler repair. Our trained gas safe registered heating engineers are experienced at working on all domestic boilers in the UK. Check out our verified reviews from happy customers.